Le 8 mars 2017, 04:48 dans Humeurs • 0
Shrobing, shrugging or dragging: how will you wear your coat this season?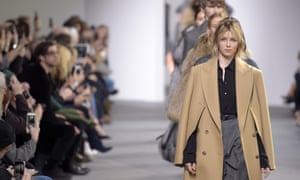 Big news in coats: your outwear is not important, but how you wear it is. The significance of styling might seem obvious, but if we learned one thing from show season, which ends today in Paris, it's that the key to self-expression is how you button, zip, shrug or peel your parka, rather than the parka itself.
Take shrobing. Based on that pioneering styling quirk "shoulder robing", or wearing your coat as a cape, like the pope, this portmanteau, newly coined by Vogue, involves peeling your coat off your shoulders so that it sits across your deltoids. Balenciaga did it last autumn, Versus did it this season with a padded coat and Melania Trump did it in red Michael Kors at an airport.
So deep within our psyche is this styling trick that Kors created a pre-shrobed coat (camel, with built-in arm slits that you slip your arms through, modelled by Edie Campbell) for this season. It works with any coat, too. Pan-coat, if you will. The takeaway? You're either too busy to get dressed or too apathetic to care – and you're hardy. In New York, where this look mushroomed from catwalk to street style, temperatures were sub-zero, yet shrobing was king. In Paris, at least coats were shrobed over coats. Decidedly warmer.
Wearing your coat off-shoulder also paved the way for shrugging. Barely discernible from shrobing, here, the coat sits in the crook of your arm, rendering the wearer immobilised from the elbow down – see models in fun faux fur at Henry Holland and Versus' knee-length padded coats. Deeply impractical (using a phone is impossible; we tried) it's also the easiest way to show what you're wearing underneath if that's your MO. So, you know, swings and roundabouts.
What else? Rihanna's bow after her Fenty x Puma "Fenty University" show was a lesson in semi-shrugging. In a bid for next-level insouciance, she wore her neon coat draped off one shoulder. It was all over the Chanel catwalk too. Which shoulder to show is up to the wearer. (Do you have a better shoulder? Something else to worry about.) Rihanna's actual show was heavier on dragging, with Lily Donaldson's floor-length padded coat trailing on the catwalk (a reading table in a library). The message? You are part of Generation Uber. You don't walk.
Other coat techniques took their cue from the education system, including APC's Paris show, where bombers were tied preppily around the models' shoulders like sweaters; a trick referred to as ivy-leaguing. Balenciaga, meanwhile, rolled out the pre-schooler look – duffels, parkas and tweeds incorrectly buttoned, as if by an eight-year-old. The gist here being that youth was something to hold on to. Coats: the fabric of our time, then. Or at least this coming season.
queeniebridesmaid pink bridesmaid dresses | blue bridesmaid dresses