Le 27 juin 2016, 05:42 dans Humeurs • 0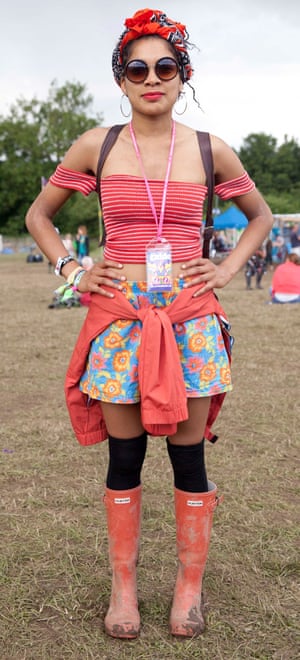 Sarah Biss
29, New Zealand, advertising account director
What are you wearing? The boots are Hunter, the dress is Topshop and the sunglasses are from Anthropologie. I've no idea how I've stayed clean. It might be a bit optimistic, but I'm going with it. For now.
Did you vote? I'm from New Zealand so I couldn't vote, but if I could have, I would have stayed in. Obviously. It won't really affect me staying here, but I am very sad. And surprised. It feels like something that is dividing generations.
Tom Horn
27, London, 'charity stuff'
What are you wearing? No, the silk jacket isn't Gucci. I got it from Festival No 6. I cut the jeans off just before I got here. The necklace came from Egypt.
Did you vote? I don't want to talk about the vote! No, I didn't vote. If I had, I would have voted in.
Lara Swansbury
32, London, learning and education at the Tower of London
What are you wearing? The dress is from a vintage shop in Brighton and the swimsuit is TK Maxx. It's actually fine with the loos, you just sort of yank it around. The bag is from TSPTR and the scarf is from Ghana – my auntie lives there.
Did you vote? I voted remain. I woke up, looked at my phone and rang my dad. I feel really sad, really disappointed, but, you know, sometimes things have to get worse before they get better. There's been a lot of lethargy among my peers and it's good to realise sometimes things don't go our way. And that you simply have to vote.
Liam O'Connor
59, Andorra, retired ski instructor
What are you wearing? This is a blizzard jacket I used to wear in the snow. Yes, it's sort of like a dress, but I have clothes underneath. I'm on-trend? Ha!
Did you vote? I actually voted out. I knew it would be close, so I stayed up to see what was happening. I'm pleased, yes.
Matthew Ockan
25, London, chemist
What are you wearing? I'm here because my friend's getting married, hence the bowtie – it's from Amazon. These are Dunlop wellies, not Hunter, the shorts are from H&M, the shirt is Zara and the sunglasses are Ray-Bans. Real ones.
Did you vote? I voted remain. I found out [the result] because people were shouting about it in the tents around me. It feels like a horrible dream.
Ree Murrell
23, London, works for English Pen
What are you wearing? I first came to Glastonbury when I was 16 – I love it. I came prepared with my Hunter wellies – everything else is from Beyond Retro, and I think the top is a kid's one from a charity shop. I found the scarf in a lady's house. That sounds weirder than it is.
Did you vote? I voted remain. Of course. My boyfriend woke me up at 9am with a cup of tea and I just started sobbing. I've met lots of people here who didn't vote. Some because they couldn't be bothered, some whose postal votes didn't work out in time.
http://www.queeniebridesmaid.co.uk/pink-bridesmaid-dresses-uk